EDL Spy - Consolidate media files the right way! In short, EDLSpy lets you: extract files from EDL, copy files from EDL, extract files from XML, copy files from XML, copy files from Media Summary, copy r3d files, copy r3d folders, and more!
EDL Spy is an application that lets you extract file names from an Edit Decision List, Final Cut XML or any other kind of footage text list (e.g. an Avid Media Summary). It can then search your harddrives for the corresponding files and copy all of them to a new location. EDL Spy also includes tools to index folder contents and to quickly copy or create complex directory structures.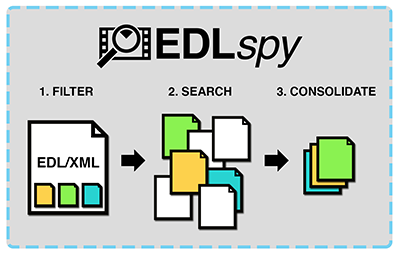 Example use-cases:
You received a harddrive from your client which is filled to the brim with all the footage shot for their movie. You only need the clips that were used in the final cut though, but those are scattered throughout the harddrive's complex directory structure. EDL Spy helps you quickly sift through all the data and copies only the files to your workstation that you actually need.

A client requests a CSV file of all the media used in your project for his footage database. EDL Spy lets you index files and folders on your harddrive and separate the results with line-breaks or custom characters.

You want to create (or copy) a complex directory structure to organize your media files. EDL Spy can either copy an exisiting directory structure for you, or you can create a new structure manually in less time than doing it in your operating system's file manager.